Keep your personal details safe with a shredder. A paper shredder quickly reduces documents down to thin strips or small particles, making them almost impossible to reassemble and read. At Fellowes, our choice of shredder machines and accessories are perfect for both home or office use.
Fellowes Powershred LX65 Cross-Cut Shredder Black – 4400601
TD# BB76478
This stylish cross-cut Shredder is ideal for regular use in home and small office environments. It can shred 10 sheets at a time into 4x40mm cross-cut particles. For safety, the SafeSense Technology stops the machine when hands touch the paper entry. The shredder can operate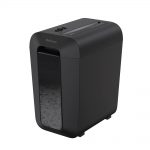 continuously for up to six minutes, followed by a 20-minute cool-down period. The shredder bin has a 22-litre capacity with a lift-off lid. Shred More.
Shreds up to 10 sheets of paper in one pass
Shreds paper into 4x40mm cross-cut particles (DIN Level P-4)
6-minute run time followed by 20-minute cool-down
SafeSense Technology keeps hands safe
22L waste bin
Lift-off lid for easy bin removal
Colour: Black
P.O.A
Call Now: (01) 846 4200
---
Fellowes Powershred LX211 Micro-Cut Shredder Black 5050201
TD# BB57153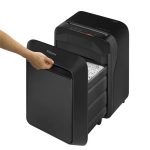 Perfect for use in the home or in smaller offices, the Fellowes LX211 is an innovative and efficient shredder. With the capability to shred 15 A4 sheets into 2 x 12mm micro-cut particles for a high security level of P-5; the LX211 has a host of intelligent features to maximise your efficiency, including Safesense technology and Sleep Mode to reduce energy consumption in addition to the Fellowes IntelliBar, providing you with in-use feedback on bin capacity and usage information. With a runtime of up to 10 minutes and a 23 litre pull-out bin, this black shredder is both easy to use and highly efficient.
Next generation shredding offers unmatched productivity and 100% Jam Proof performance. Shred More.
Shreds up to 15 sheets of paper into 2 x 12mm micro-cut particles
Security Level: P-5
Shreds nonstop for up to 10 minutes
IntelliBar provides in-use feedback and statistics
Safesense technology and Sleep Mode for energy efficiency
Designed for use in the home or small offices
Capable of shredding 1000+ sheets over the 20-minute run time
Bin capacity: 23 litres
Colour: Black
P.O.A
Call Now: (01) 846 4200
---
Fellowes Automax 200M Microshred Shredder (200 sheet automatic shredding capacity) 4656401
TD# BB72666
This 200M Auto Feed Shredder has Superior Security Micro-Cut capability for peace of mind and time saving benefits. Ideal for 1-3 users, this shredder is ideal for small office or home office environments. Shred More.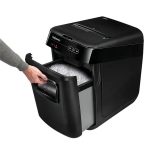 200 sheet automatic and 10 sheet manual shredding capacities (70gsm)
Shreds documents into 2x14mm micro-cut particles (DIN Level P-5) – (over 2000 particles per A4 sheet)
Shreds the capacity load in approximately 6 minutes with a 12 minute duty cycle
32 litre pull-out waste bin that requires less emptying than the crosscut equivalent
Also shreds credit cards (manual feed) and staples
Up to 400 sheets of paper before a 30-minute cool down period
2 year machine warranty and 7 year cutter warranty
P.O.A
Call Now: (01) 846 4200
---
Fellowes 225Mi Microshred Shredder 4320201
TD# BB64273
To securely dispose of sensitive data, trust in the Fellowes 225mi Microshred Shredder. This capable device cuts particles many times smaller than a standard cross-cut shredder, meaning that it is virtually impossible to recreate shredded documents. This shredder is designed to be extra safe, stopping immediately if hands get too near the shredding mechanism. It is also designed to work silently, meaning that you don't have to disrupt an entire office when using it. Shred More.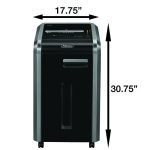 Shredder for secure data disposal
Cuts to a micro-cut standard (2x12mm, security level 5)
Shreds up to 16 sheets at once
Bin capacity: 60 litres
Handles staples, credit cards, CDs and paper clips
SilentShred technology keeps that machine quiet
Safe to use, automatically shutting down when hands are at risk
Alert light when bin full
Throat width: 240mm
Comes with a cardboard bin
P.O.A
Call Now: (01) 846 4200
---