Brightpay is Quick, Easy and Efficient.
---
Free Trial Available , CALL: (01) 846 4200
---
BrightPay works the way you want. It's incredibly flexible, letting you do what you need to do to run your payroll, no matter what type of employer you are or what your situation is.
---
For businesses of any size
BrightPay is an advanced comprehensive human resource and payroll system designed for companies or payroll service bureaux processing payroll for companies.
---
List Of Features
Unlimited employees.
Import employees from RPN, CSV or from many other competing software packages.
Run multiple payment schedules side-by-side with one-click access to any pay period.
Unlimited payments, additions and deductions on payslips. Just click the Add button, and you'll get another.
Any employee or group of employees can be reverted or progressed forward in the payroll year at any time.
Print payslips on blank A4/A5 paper.
Pay different employees on different dates.
Flexible reporting – you choose the information you want to see. Open multiple reports side-by-side.
The BrightPay user's interface fills the application window, adapting to your PC's capabilities.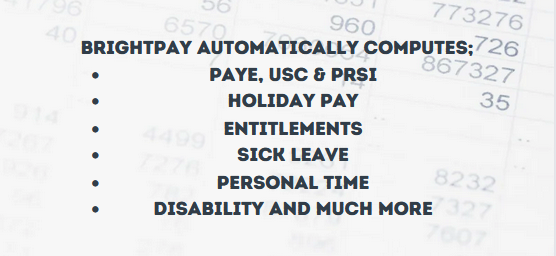 ---
Brightpay also includes PAYE Modernisation
This real time reporting process will also mean that the correct tax is deducted when an employee is paid, reducing the occurrence of an employee overpaying or underpaying tax.
---
---
PAYE Modernisation is fully integrated with payroll software. This allows employers to simplify the payroll process and reduce the administrative costs.
Easily import your Revenue certificate (which is required to authenticate your submissions to Revenue).
Check for Revenue Payroll Notifications (RPN) each pay period, and keep your employees up to date in line with Revenue's instructions. Where RPN updates are detected, they can be previewed and applied with a single click.
Send a Payroll Submission Request (PSR) for each employee payment. BrightPay provides a full print/email-friendly preview of PSR content, and walks you through the process of sending to Revenue.
BrightPay tracks the state of all your employees each pay period, and alerts you where RPNs need to be checked for or updated from as well as where PSRs need to be sent (or re-sent).
At a glance, comparison and reconciliation of the tax liabilities recorded in BrightPay against the tax liabilities as reported by Revenue.
BrightPay stores all Revenue communication logs for your reference, and relays any submission errors back to you in a clear, user-friendly format.
Training and Development can be tracked, planned and scheduled for in-house and external training courses. It also can log an employee's progress with the company and make notes of further training required. Complete training plans and histories are kept for each employee. Future training requirements, such as professional re-certification, can be scheduled as part of each employee's educational profile.
A unique user defined "online, no paper" quick view grid enables management to see any vital information instantly and have managerial information always at hand if desired with the correct user rights. This can then export information quickly to any Microsoft Product, e.g. Word, Excel etc.
---
Like to learn more, or are interested in a Free Trial, Call Ronan: (01) 846 4200
---